RBM – Your Local Locksmith Since 1973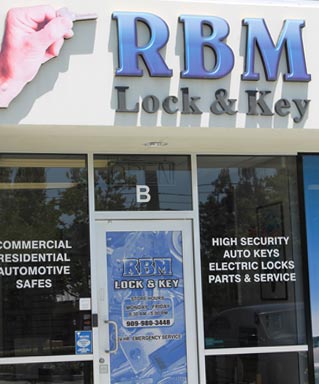 At RBM Lock & Key, we've been serving the lock and security needs of the Inland Empire for four decades. The company was founded in 1973, and we continue to be a family business that is dedicated to being a reliable part of your community. No matter what type of locksmith services or security products you may need, give us a call. We'll be happy to help.
A Diverse Range of Services
Whether you have locked yourself out of your home or office, broken off a key in a lock, or simply need more robust locks and door hardware installed, RBM Lock & Key can help. Our skilled locksmiths are fully trained in all kids of residential, commercial, industrial, and automotive lock applications, like:
Opening locked doors at your home or business
Opening car doors, trunks, glove boxes, and hatches
Opening safes
Opening cabinets, mailboxes, and file drawers
Duplicating keys, including computerized car keys
Changing safe combinations
Removing broken key pieces from locks
Installing, repairing, and rekeying locks
Installing and servicing CCTV systems
Installing and servicing keyless entry systems
A Fully Stocked Store
Unlike your average locksmith, locksmiths from RBM Lock & Key have the advantage of being able to draw upon the resources of our fully stocked store whenever they need a part for a job. We carry a broad range of products in our Ontario storefront, from good old fashioned padlocks to cutting-edge electronic access systems, digital safes, and streaming CCTV systems. We even have automotive locks for most domestic and foreign vehicles. Our store is open to the public Monday-Friday, 8:30-5.
We're There When You Need Us
When you have a lock or security emergency, you need fast, effective service from a company you trust. At RBM Lock & Key, we are dedicated to being the locksmith that you naturally want to call in an emergency. We pride ourselves on being able to respond to your needs quickly and solve your problems effectively.
As a respected member of the local community for 40 years, we believe we have earned your trust, but if you are a new customer we are eager to prove this to you! Our fleet of mobile locksmith vehicles are on call 24 hours a day, 7 days a week to respond to your emergency calls. We can provide emergency unlocking services as well as help you secure your home or business after a break-in by providing new padlocks, deadbolts, electronic locks, and key copies. So the next time you need the help with your locks or other security products, just give your friendly neighborhood locksmith, RBM Lock &Key, a call.