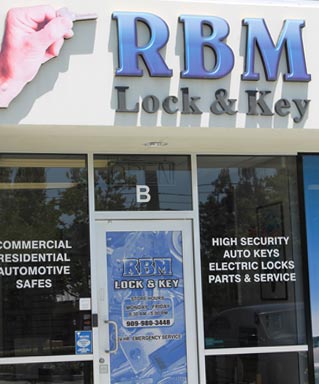 No matter what kind of problem you may have with your locks or keys, RBM Lock & Key can help. We can even provide 24 hour emergency service to help you gain access to the things you need when you need them. Just call us and request an emergency locksmith Upland CA.
We Respond Fast in an Emergency
Sometimes, a minor lock problem can become an emergency because of other factors related to the situation. For example, locking yourself out of your car is no big deal if you're at home and the car is empty. But if you have a load of perishable groceries or a pet sitting in the car, you need an emergency locksmith Upland CA to come to your aid as quickly as possible, before the heat begins to affect your cargo. At RBM Lock & Key, we pride ourselves on fast and effective service for all kinds of locks. We can let you into your car or trunk, as well as install new locks if your old ones are broken beyond repair. We can also create extra key copies for you to stash around the house to keep similar emergencies from happening in the future.
Our Emergency Services
Here are the core services we can provide as your emergency locksmith Upland CA:
Emergency lock opening

Residential
Commercial
Industrial
Automotive

New lock installation

Doors
Mailboxes
Cabinets
Safes
Padlocks
Car trunks, hatches, glove boxes
Keyless entry systems

Fast key copies

Computerized car keys
Keycards

Emergency repairs

Door locks
Car locks
CCTV systems
Safes
Door hardware
All of our emergency services are available 24 hours a day. Don't hesitate to call us any time of the day or night, no matter what type of lock emergency you may have.
Hours:
Mon – Fri 8:30 to 5:00
Address: 2235 E. 4th St Suite B, Ontario, CA 91764
Need To Schedule An Appointment?