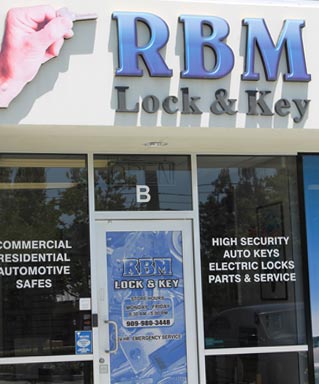 Emergencies can happen any time, day or night. That's why RBM Lock & Key provides 24 hour service from a skilled emergency locksmith Ontario CA.
Dealing with Emergencies
At RBM Lock & Key, we know that even a minor security problem can quickly turn into an emergency if not promptly and properly handled. For example, if an employee loses his or her keycard, your keyless security system may then be vulnerable to a breach by whoever happens to find that lost card. RBM Lock & Key can help you prevent this from happening if you call us right away. We can reprogram your keyless entry system to deactivate the lost card, or even reprogram all the cards for extra security. We can also help you set new safe combinations on a regular basis, to reduce the risk your combination from becoming known by the wrong people and used at their leisure. As your emergency locksmith Ontario CA, we are happy to provide whatever services you might need, whenever you feel you need them. Your security and peace of mind are important to us.
Our Emergency Services
At RBM Lock & Key, we can open, repair, or replace just about any sort of lock to help you deal with an emergency. Here are the core services we can provide as your emergency locksmith Ontario CA:
Emergency lock opening

Residential
Commercial
Industrial
Automotive

New lock installation

Doors
Mailboxes
Cabinets
Safes
Padlocks
Car trunks, hatches, glove boxes
Keyless entry systems

Fast key copies

Computerized car keys
Keycards

Emergency repairs

Door locks
Car locks
CCTV systems
Safes
Door hardware
All of our emergency services are available 24 hours a day. Don't hesitate to call us any time of the day or night, no matter what type of lock emergency you may have.
Hours:
Mon – Fri 8:30 to 5:00
Address: 2235 E. 4th St Suite B, Ontario, CA 91764
Need To Schedule An Appointment?