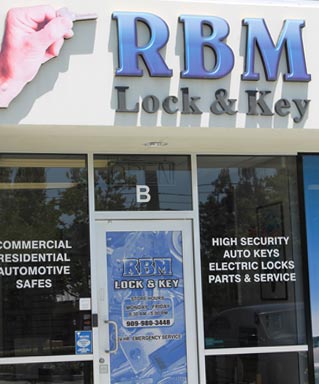 When you have any sort of problem involving your locks, you need help right away. Whether you need to get into your car, home, or business, or keep other people out, an emergency locksmith Corona CA can help.
Do you have an Emergency?
Your situation doesn't have to be a life or death problem in order to qualify as an emergency. At RBM Lock & Key, we consider any time that your locks are not working properly to be an emergency. For example, you might lose the keys to your car. If you're at home with no urgent business, this may not seem like much of an emergency. But, if you are trying to get to work, the situation gets more serious. Being late to work one more time could impact your future earning power by removing you from the running for a promotion or getting you fired entirely.
Fortunately, you can turn to RBM Lock & Key for fast service from a qualified emergency locksmith Corona CA. We can send someone to help you 24 hours a day, 7 days a week.
Our Emergency Services
Here are the core services we can provide as your emergency locksmith Corona CA:
Emergency lock opening

Residential
Commercial
Industrial
Automotive

New lock installation

Doors
Mailboxes
Cabinets
Safes
Padlocks
Car trunks, hatches, glove boxes
Keyless entry systems

Fast key copies

Computerized car keys
Keycards

Emergency repairs

Door locks
Car locks
CCTV systems
Safes
Door hardware
All of these services are available 24 hours a day and backed by our superior locksmith skills and high-quality product offerings. Don't hesitate to call us any time of the day or night, no matter what type of lock emergency you may have.
Hours:
Mon – Fri 8:30 to 5:00
Address: 2235 E. 4th St Suite B, Ontario, CA 91764
Need To Schedule An Appointment?